Nobody could have predicted, nor would we have believed it if they had told us, that by the middle of March in the year 2020 there would be no sports, no theater, no indoor (or outdoor) dining, no proms, all schools would transition to remote learning, a large part of the workforce would pivot to working from home, and oddly enough, there would be a national shortage of hand sanitizer and toilet paper. Indeed, 2020 has thrown us a few curveballs; we have had to swing for the fences, rethink our lineup and adapt to a new normal. While we have struck out on occasion, for the most part, we have been able to keep our heads in the game and even knock a few right out of the park. Lakes Region Community College's Toyota T-TEN graduate and LRCC Class of 2020 Valedictorian, Stephen Brackett, has, without a doubt, hit a home run this year! He has been a model student and sets the clear example that the desire to learn, a positive attitude, a strong work ethic, grit and having the right people in your corner is a recipe for success.
When Stephen started the program in the fall of 2018, he was looking for a way to improve his position and set himself up for the future. He always had an interest in automotive repair but had no formal training. He became unsatisfied with the hot days and long hours of his current job as a roofer, and began looking for a career path that would feed his interest and provide him with an opportunity to grow. He discovered LRCC's Toyota T-TEN program through an internet search. He set up an appointment to meet with Scott Ellis, Toyota T-TEN program coordinator, to tour the facility and learn more about the program. Impressed with Stephen's enthusiasm and drive, Scott set up a meeting with Patrick Obed, service manager at Rochester Toyota. Stephen spent a few hours shadowing the master technicians in the shop and knew right away that this was the place for him. He enrolled in the program and began working at the dealership within a few weeks. He spent the summer working and started classes on campus in the fall of 2018.
From the moment that Stephen started the program, he put his head down, stayed focused on his studies and never lost sight of his end goals. He quickly rose to the head of the class and became a leader to his classmates, often assisting them when needed and encouraging them to push through their challenges and keep their eye on the prize. "He became a role model for the other students and brought the quality of the whole class up a few notches," said Brian Ellis, T-TEN instructor. "He set the bar high and encouraged the rest of the class to reach for it." This, coupled with the rigorous T-TEN curriculum, knowledgeable and caring faculty, quality work experience and a dedicated mentor, allowed Stephen to flourish in the program. His hard work paid off, literally. He has been recognized by the Community College System of NH Foundation as the recipient of the Dan McLeod Scholarship, in recognition of the past NHADA president and former vice chair of the New Hampshire Community Technical College System (now CCSNH) board of trustees, providing him with $2000 toward his education. This award goes to the second-year automotive student with the highest GPA in the entire college system. Additionally, Stephen applied for and received $2950 in additional scholarship support from the NHADA Education Foundation, reducing the out of pocket cost of his education even further. "The incredible financial support provided by the network of NHADA members and dealers, administered through the NHADA Education Foundation, makes a huge difference in the lives of our students. It changes the entire conversation when a student recognizes that they can finish the program with a college degree, real-world experience, a job and a future with very little cost to them," says Ellis.
Stephen was not able to attend the drive-thru commencement ceremony held on June 27th to provide his valedictory address to the graduating class. Instead, LRCC's President, Larissa Baia, visited him at his place of employment, donning full commencement regalia to congratulate him and hand-deliver his diploma, honor cords and a special gift from LRCC. President Baia also recognized Stephen during the commencement ceremony by saying to the graduates, "His integrity and dedication are what makes me not only proud but hopeful that you have the tools and preparation to tackle what lies ahead."
Lisa Casaccio, president of Rochester Toyota, asked the entire service department to stop what they were doing, which rarely happens in the industry, to join in the celebration. Stephen's mother, Jen, stood quietly in the background, capturing every moment on her cellphone, and even though she had a face mask on, you could clearly see that she was beaming with pride. Graduation was an amazing end to this chapter of Stephen's journey, and one that he will not soon forget. We expect to see great things from Stephen in the future, and look forward to seeing where his journey takes him now that the rubber has met the road.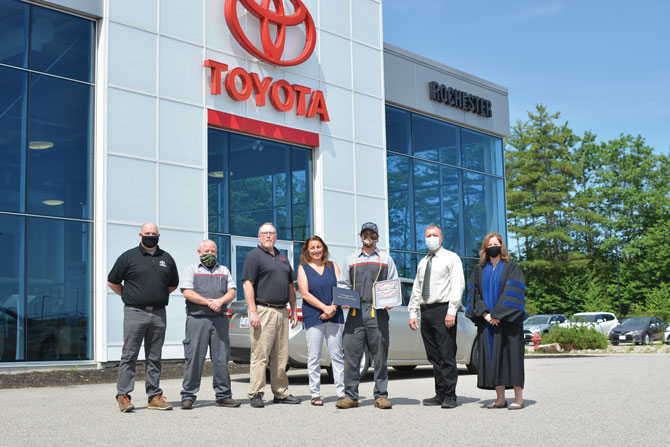 Education and industry come together to celebrate Stephen Brackett, Lakes Region Community College's class of 2020 valedictorian and Toyota T-TEN high honors graduate.
Left to right; Brian Ellis-LRCC Toyota T-TEN Instructor, Glenn Goodwin — Toyota Master Diagnostic Technician and mentor,
Partick Obed — Service and Parts Director, Lisa Casaccio — president of Rochester Toyota, Stephen Brackett,
Jamie Decato — LRCC Transportation Department Chair and Larissa Baia — LRCC College President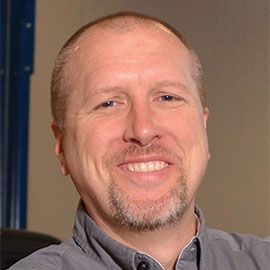 Jamie Decato, Assistant Professor, Automotive Technology; Department Chair, Transportation Technologies, at Lakes Region Community College