Many things have changed over the past several months, and one major change is people's expectations about hygiene and cleanliness. Now, more than ever, people want to know that the places they go to are as hygienic as possible — especially the restroom.
Kimberly-Clark Professional recently surveyed more than 500 consumers about their biggest away-from-home hygiene concerns as well as solutions to address them. The study focused on a range of environments – large office buildings, health care facilities, hotels, educational institutions, groceries, high-traffic and food service establishments. Among the key findings:
Approximately 8 in 10 consumers say the condition of the restroom reflects how much an employer cares about guests and/or reflects the company's image. This was true across all the away-from-home environments.
Three-quarters said that if the restroom isn't clean, they don't believe the rest of the facility is either.
The takeaway? To gain consumer trust, it's essential to adopt solutions that provide peace of mind and demonstrate that you're doing all you can to maintain the highest levels of hygiene. Here are some of the survey findings and recommendations to address them.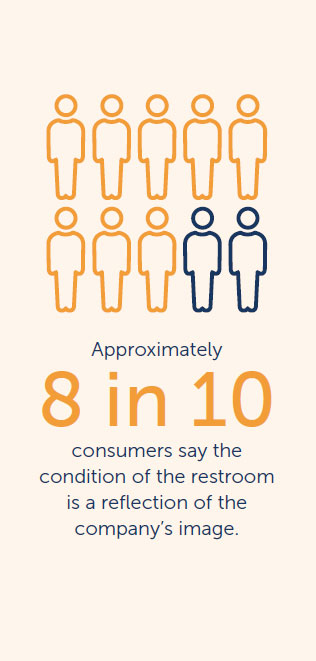 Finding: What's the most important restroom amenity?
Touchless systems(1) – hands down; 95% of large office building employees said these systems were very important to establishing confidence in the cleanliness and hygiene of a restroom.
Recommendation: Touchless systems help reduce the risk of cross-contamination, or the transfer of germs and bacteria from one person, object or place to another.
Finding: Don't blow your good hygiene practices!
One in three consumers see jet air dryers in public restrooms as a high germ risk. It's no wonder when you consider that jet air dryers can:
Increase germs on fingers up to 42%(2)
Have up to 1,000 times more bacteria on their surfaces, compared to paper towel dispensers(2)
Recommendation: The science is clear. Paper towels are the most hygienic option for hand drying.
Finding: Brand recognition boosts hygiene perceptions
84% of consumers view familiar brands as an important signal of a clean and hygienic environment.
Recommendation: Get credit for delivering quality restroom solutions that consumers know and trust. Studies have shown that trusted brands increase overall perceptions of cleanliness and improve tenant and visitor satisfaction.
This article is brought to you by Kimberly-Clark Professional. The NHADA Staples program offers easy access to Kimberly-Clark Professional dispensers and products. Scott Brand towel and tissue dispensers and products are also available. Your Staples dedicated Facility Solutions Expert can assist you in discovering the best solution for your business. Contact Jeff.Friedgen@Staples.com for assistance.
Survey methodology
The survey of 512 consumers, age 18 and older in the U.S. and Canada, was conducted online from May 28-30, 2020. The respondents were employed or familiar with one or more of the following away-from-home environments: large office buildings, health care offices, acute health care facilities, senior care facilities, hotels, high-traffic locations, educational institutions and food service facilities. The margin of error was plus or minus 4.3%.

(1)Consumers were surveyed about items in public places that would enable a clean and hygienic experience. They were asked about the importance of a list of "touchless" items for establishing confidence in the cleanliness and hygiene of a facility's restrooms. The following elements, if selected, were considered "touchless" systems: touchless soap dispensers, touchless hand towel dispensers, touchless hand sanitizer units, touchless trash cans, paper disposable seat covers, touchless faucets and automatic doors.

(2)Redway, K. and Fawdar, S., 2008, November. A comparative study of three different hand drying methods: paper towel, warm air dryer, jet air dryer. In European Tissue Symposium (Vol. 1).


Endorsed NHADA Platinum Partner Staples