Association health plans work by allowing businesses to band together for healthcare coverage as if they were a single large employer.
NHADA has been offering our members association health plans for decades, holding steady even throughout all of the tumultuous federal regulations which have occurred.

This new rule does not affect our existing association health plan. Our plans can continue to operate as before.

We also review what the market is doing outside of our AHP to see what delivery system is best for each of our member's specific needs.

NHADA is proud to work with our exclusive partner, Harvard Pilgrim Health Care, for all of our members' health insurance needs. Choose from the doctors and hospitals you know and trust. More than 70,000 doctors and other clinicians in the region and 182 hospitals participate in the Harvard Pilgrim network. With Harvard Pilgrim, members can save on a wide range of products and services to help them live a healthy life, including eyewear, diet programs, dental care, massage therapy and much more, including up to $150 in fitness reimbursements.

In addition, NHADA offers dental plans through Northeast Delta Dental that are the richest association dental benefits. These benefits are exclusive and only for our members. Benefits like these are not available in the open market. Our Delta Dental plans have competitive rates, free choice of dentist (in- or out-of-network), excellent customer service, and much more! People have different needs; that's why we offer six different coverage options. Our dental benefits have been around a long time and have not been scaled back.

Employees who are covered by a full vision plan are nearly twice as satisfied with their benefits. Get the absolute best in eye care and eyewear through your association vision plans with VSP. You'll enjoy more value, and the lowest out-of-pocket costs with an almost endless choice of providers. All major lens enhancements are covered at no cost. Other vision plans just don't even come close to your association vision benefits.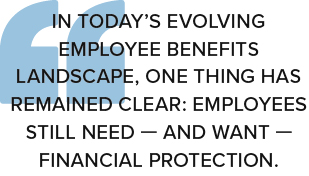 Our array of group term life insurance benefits and group short term disability benefits through Anthem Life enables us to tailor plans to meet employees' unique needs. We deliver complete care at an affordable cost with less hassle.

In today's evolving employee benefits landscape, one thing has remained clear: Employees still need — and want — financial protection. Unum's diverse supplemental insurance options can ensure that your workforce has access to the coverage they desire. That's why NHADA partners with csONE Benefit Solutions to deliver Unum Voluntary Worksite benefits such as critical illness, accident, term life, short term and long-term disability plans to our members.

NHADA also has our members' administrative needs covered for premium conversion plans, flexible spending accounts, and health reimbursement accounts through csONE benefit solutions.
When you prepare for your next benefits renewal, please be sure to reach out to Licensed Insurance Producer Lori Preve to see how we can help you. Lori can be contacted at at 800-852-3372 or llpreve@nhada.com.