The NHADA Foundation, in partnership with Nashua Community College, hosted the annual CTE Instructor Training Conference this month. The event provided the high school instructors with 15 hours toward their required ASE training. There were 24 instructors in attendance from schools across NH. This event supports the goals of the NHADA Foundation in building the workforce pipeline through the education and training of future technicians.
The need for qualified technicians in the automotive industry is at an all-time high. With the rapidly evolving technology in this field, the new crop of technicians coming through the pipeline needs to be knowledgeable about traditional auto mechanics and also be willing to learn about the new technology. Finding ways to balance this will be essential to the success and growth of the industry. With that in mind, quite a few of the training topics focused on advancing technologies.
Instructors received training from State Inspector Jeff Charette and Trooper First Class Fagan on the State Inspection process and updates. Many schools have their own state inspection licenses, and students learn the multi-point inspection as part of their education and perform inspections on live customer cars. Staying up-to-date on changes is essential to this process.
Snap-On representative Cory Nelson also held training on Advanced Driver Assistance Systems (ADAS) and thermodynamics and the evolving technology in the tool field.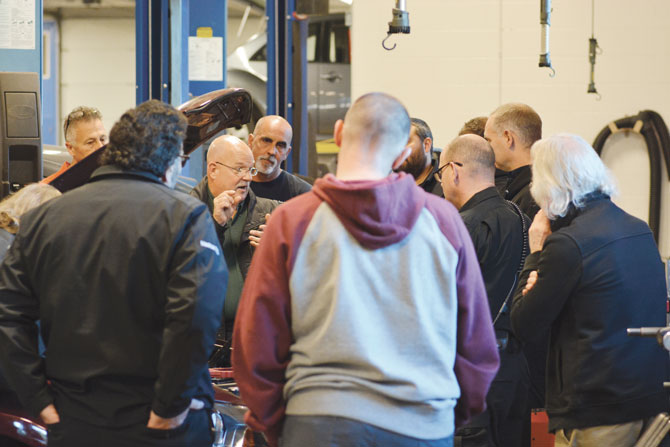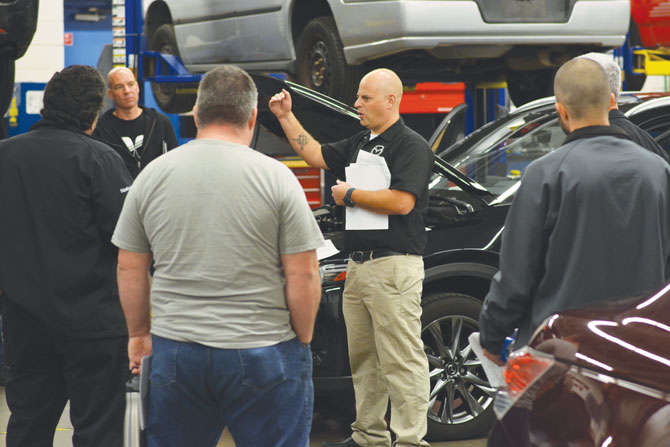 On Day Two of the training, Timothy Kosnar and Sean Markell from Mazda North American Operations performed demonstrations on new vehicle technology such as ADAS and CAN-bus systems. They also presented the new Mazda automotive student training program (MAST) that will roll out at Nashua Community College in the Fall of 2022. This program provides certified training in conjunction with NCC automotive courses and on-the-job training with mentors in Mazda service departments. It comes with many incentives for students who join, such as tool and tuition reimbursement and enrollment in the DRIVE program to lease a vehicle from Mazda.

In the afternoon, we were joined by John Sawyer Jr., Vice President of Portsmouth Ford and Derek Federico, Service Manager, to discuss the industry outlook on Electric Vehicles. "While there is still a lot of unknown, we recognize that EV is coming and we should start preparing now," Sawyer Jr. said. "Laying the foundation with students in regard to safety and awareness is a great place to start."
They brought a Ford Mustang Mach-E with them for the instructors to check out. NCC was also a recipient of an electric Switch vehicle through a grant from the Department of Education, and instructors got the chance to take the Switch for a drive.
The event wrapped up with small group discussions regarding curriculum planning, enrollment trends and recruitment, internships, and technology in the classroom. Brian Bishop from TechEd products was on hand to demo their zSpace product, a virtual reality learning tool incorporating the ASE curriculum into the training modules.
Lisa Diggins, instructor for Huot Career Center in Laconia, said, "I found it helpful to catch up with the state troopers and learn the new laws that have been updated over the past 20 years also collaborating with my peers, learning and interacting with a lot of different people, electric vehicles, and adaptive vehicles."