Well, 2020 sure was a unique and memorable year! The Covid-19 pandemic threw everything for a loop, including some of the amount of, and types of injuries received by the NHADA Workers Compensation Trust (WCT). When discussing this year-end review, WCT Director Pete Sheffer wondered if anything could be gleaned by comparing such an unusual year? One thing that was obvious is that 2020 was a much better year for the WCT than 2019, which was a worse than average year. There were 216 (27%) fewer claims in 2020 and incurred cost were $261,083 (8%) less.
The main trend displayed in 2020 was that there were a lot less medical only claims, (503 vs. 706), which we believe is largely from not reporting/treating minor injuries for fear of contracting Covid-19. The primary concern with this trend is that if injuries go untreated or improperly treated, they can morph into more serious conditions, so we strongly encourage our members to properly report and treat ALL injuries. Total Loss Time claims were on par with prior years.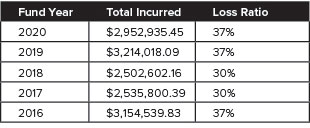 Another year over year trend was significantly fewer weather-related claims (75 vs. 110) as a result of a milder winters. Costs were less than half as well, ($619,000 vs $1.3 million). Other than that, there were no other concern-able trends. There was a big drop in hand injuries, which tend to be minor so that's in line. Five years of claim comparisons are provided in the charts.

As we begin this new year and Covid-19 remains a serious concern, please do not let it negatively impact the management of workplace injuries. Properly report and treat ALL injuries. Protocols are in place at all NHADA network providers to ensure that your employees will be safe.

Loss Prevention is also asking members to initiate safety activities, (meetings, trainings, etc.) that may have been suspended, as soon as is safe to do so.

Happy New Year. Stay safe.