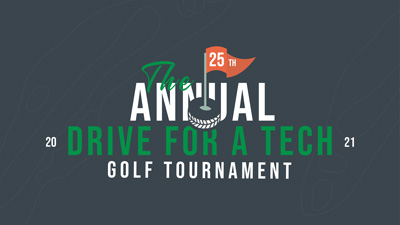 The weather is warming up, and the greens are ready! Come spend a day on the course and support the NHADA Education Foundation during our 25th Annual "Drive for a Tech" Golf Tournament Friday, May 5, at Pease Golf Course in Portsmouth, New Hampshire.
Come safely socialize and network with our members and partners outdoors in the fresh air. Enjoy a BBQ lunch on the course and, don't worry, the beer cart will be making the rounds as you play. Be sure to pre-purchase your value packs which now includes your air cannon voucher, tickets that will give you four entries into the raffle with prizes you won't want to pass by, and a mulligan that can come in handy on the course!
Play a full 18 holes with entertaining new challenges along the course mixed in with some of the old-time favorites. Challenges include the Birdie Ball Challenge sponsored by Volvo Cars of Exeter, where you will compete against your team members to see who can drive a birdie the farthest! Looking for a way to showcase your company? Become a sponsor of our new Workforce Pipeline Precision Challenge where opponents will put their precision to the test while aiming to hit their ball through one of the Workforce Pipeline PVC pipes for a chance to win raffle and drink tickets.
Let's also not forget how much fun everyone had on last year's Marshmallow Challenge holes throughout the course. We saw a lot of creativity to try and add weight to the marshmallows. We had to be sure to bring the fun back with a little more of a twist that is sure to add to the excitement. We will have Putting with Peeps (all puns intended)! Sponsored by our Platinum partners at Gordon-Darby NHOST Services, Inc., golfers will be able to see just how far they can putt the peep! And, yes, we will have stale peeps available for a bonus advantage!
Interested in being a sponsor or registering a foursome? Please register at our website or reach out to Kaleena Guzman at kguzman@nhada.com or 603-224-2369.